Context: I am one of the longest-standing Infinity users and an original member of this community. I am also an ardent Infinity enthusiast and brand ambassador. 90% of my experience and the sentiment I share with others in regard to Infinity is positive. All that to say, I love and appreciate Infinity, but there is one area that is extremely lacking, frustrating, and critical: ATTRIBUTES.
I know there have been many big areas of focus (permissions, automation, stability, speed, etc.) but now is the time to address ATTRIBUTES.
There are more than 350 posts in this community in relation to ATTRIBUTES. Mostly bugs, feature requests, frustration, or confusion.
I think it is time for the Infinity team to set up some sort of feedback process specific to ATTRIBUTES. I recommend live screen-sharing interviews with individual users, user teams, or small panels of users.
Recently I built out a few very complex boards for a client. This required capabilities and features outside of the core Inifinity capabilities, but there were workarounds available so I proceeded. The process made me realize just how bad the ATTRIBUTE system in Infinity is. Things that should be quite simple are insanely complex or in some cases not even possible. I would argue that ATTRIBUTES and FORMS are the backbones of Infinity and both need help.
After three weeks of working on two very complex boards, I am considering scrapping them and moving those processes to Airtable, purely based on the number of hours it has taken to get set up (ATTRIBUTE issues) and the fact that any changes I make to the boards going forward will bring those same issues to light again. Effectively, I am almost better off recreating the entire boards again than trying to edit them. Every edit or addition creates hours of work reorganizing everything.
I don't have specific requests or recommendations to share in this post, but I am happy to jump on a call with anyone to walk through the challenges I see.
As far as immediate opportunities/impact, let's begin with the right-click menu for
FIELDS in Airtable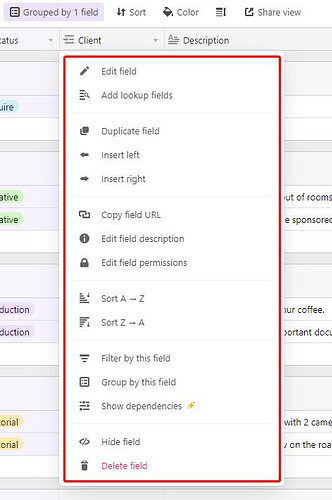 vs. ATTRIBUTES in Infinity.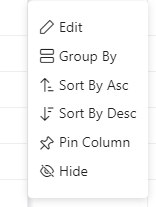 Addressing this disparity alone would probably get us 60-70% of the way to an ideal ATTRIBUTE functionality.
Specifically, in Infinity I dream of being able to:
Edit an attribute type and turn it into a different type like this! → Airtable edit
Duplicate attributes right from this popup menu
Insert new attributes to the left or the right of another attribute rather than having to scroll for days
and pretty much everything else you can do with Fields in Airtable's popup menu
I don't often compare Infinity to other tools, but sometimes you just have to give credit when someone is doing a much better job than someone else. Airtable is killing Infinity in regard to Fields/Attributes and I think it is going to be a major pain point as more users come to Infinity.