Hi,
As titled, I'm trying to setup email reminders / integrate gmail + Infinity via Zapier.
I'm getting an error that;
"Gmail has some additional requirements…your gmail data can only be sent to approved apps.
The app you are using (infinity) is no longer supported."
Does anyone have a workaround / help / way to do this?
All I want to ultimately do is to somehow be able to send emails from my Personal Gmail acct, to Infinity.
I was trying to set it up where when I label an email with a label I created; "Convert to Infinity Task" in gmail; then zapier would use that label as its trigger to convert to an infinity item.
This is a pretty big feature I need & miss from my old task manager, so any help is greatly appreciated.
Thank You!
ETA:
I do have both Gsuite / Google Apps and personal gmail; as it stands now, my personal gmail is my main account.
In digging around to resolve this, I saw something about I might be able to use my Google Apps (Workspace? Workplace? Sheesh…) email, but NOT my free, Personal Gmail…argh!
But, if I could at least get my GSuite email to work with infinity, that would work for now…
Or what about IFTTT?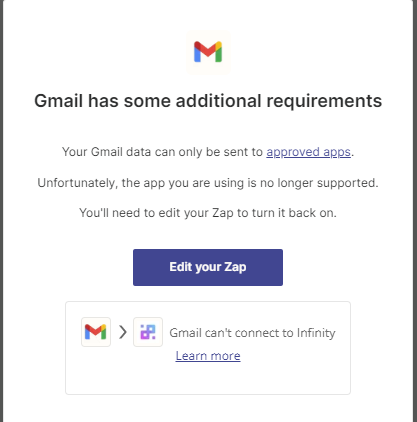 .