You betcha, @man!
Awesome updates are on the way! Stay tuned


Maybe I was misunderstood but all I wanted to say is you (AFAIK) published new updates which weren't put on the changelog.
Or maybe I keep finding features I haven't seen but you had included already

Yes we've published some changes but haven't announced Updates yet

We're waiting for the Table view

It's almost Dec 1… how's it going?


And I know we keep talking about Table view… but also, what's the story with Gantt view? When might we get a peek at that?
Hey @adam!
Happy December! Time flies by fast, right?
Things are pretty good here among Infinity crew, thanks for asking.
Update for Table view production: We might have an early version of it today! We'll let you know, for sure.
And regarding Gantt view: I think we could also get a design preview of it this weekend.

How does that sound?
We're super excited to share the upcoming news!
Hey, Table is live! Playing with it now…
Can you give us list of recent features/fixes to test?
And…
Are we now at Version 1.0?
Can you also tell what means Sidebar 2.0?
Happy Holidays, Infiniteers!
I hope you're all enjoying a little downtime. I just thought I'd check to see when we might expect the next update - specify, when we might get a look at Gantt charts?
Thanks for all your hard work this year, and here's to an amazing 2019!
Hi @adam, happy holidays!

Today is the last workday of 2018 here at the office, so we're still busy polishing Infinity for the new year.

When it comes to the Gantt Chart, it's our first priority and we're currently working on adding this feature to the tool. You can expect it by the end of January. Until then, here's a little preview of how Gantt is going to look. Tbh, we can't wait either.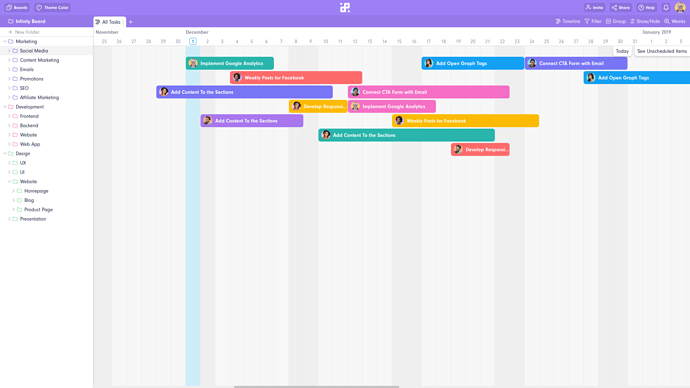 Thanks for the image, @Jovana - very exciting! It looks like Gantt will be beautiful.
The sample image brings up an important question. You show multiple items on a single line. I'm not a professional project manager, but doesn't a "true" Gantt chart put one item on a line, and arrange them in chronological order from top to bottom? That would make it easier to see what happens and in what order.
Putting multiple items on a single line saves space, but would seem to make the chart less useful. Would you consider making it one-line-per-item? Or at least making that an option?
EDIT: Maybe a good solution in the Infinity tradition would be a Gantt view control attribute. We could switch between "traditional," "compact" and "custom" or "manual" - the latter where we can drag and drop items into any line we like.
Also, I think a traditional Gantt chart puts all the task names in a vertical column on the left, which makes it easy to scan down the list from top to bottom. Is it possible to add an optional column like that as well?
Hey very nice app!
We're using Meistertask right now but we're following infinity project cause is really interesting for our agency.
Just few questions ( we use these features a lot )
What about these integrations: Zapier, Slack, Dropbox, Gmail
Time tracking?
Thank you in advance!
Hi @Giudenapoli,
Thanks for the support, and welcome to the community

The Zapier integration (which will create the possibility to integrate Slack, Dropbox, and Gmail) will be released in April. We're currently in the research phase of that feature.
Regarding the Time Tracking feature, we can implement 'part of the feature' fast, for example:
Adding Time Tracking attribute to an Item
Start, Pause, Stop buttons
Simple logs attached to an Item
This will allow time tracking, but not many insights and calculations in the beginning.
Would this work?
Thanks
That's cool, thank you Stefan!
Last question, what about the mobile app?
Hey @Giudenapoli, the mobile app is also in the works and will be created in April.
Best regards!
For starters, it's more than enough.