Hi @CodeKnight

Yes, we still use Intercom and it is one of the fastest ways to reach our support. You can most certainly hide it by clicking on that "hide intercom" button, if you click on it again the bubble should appear in the bottom right corner of your screen.
It should always be there by default whether that's in our desktop app or when you access infinity via browser.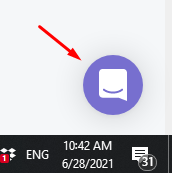 This could also be an important question - how are you accessing infinity, through our desktop app or via browser?
Looking forward to your reply

---