Hey guys, it's time for an update!
We are bringing some great new features to Infinity this week, and the first one was just set live:
We're introducing Custom Templates!

Custom templates are finally here! This means that you will be able to create your own custom templates out of boards and folders. All you need to do is save a board or a folder as a template and you'll be able to load it any time you need the same structure and setup again. (image below)
Aside from that, you will also be able to share your custom templates with other Infinity users and use a template that any other person has shared with you. This is really exciting because it will open many new opportunities for collaboration among our community members as well!

Read more about how to use custom templates here.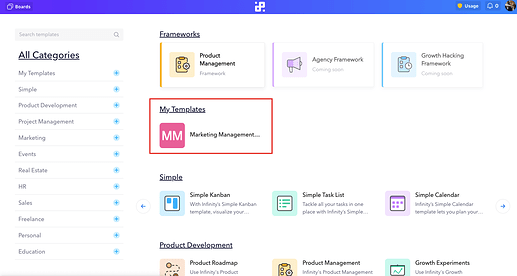 –
Aside from this, our team has been busy in the previous weeks adding various improvements and fixing bugs. We did have some issues with stability after deployment, but we were able to improve this greatly and we had a couple of successful deployments over the weekend. Here's what else is new:

General UI | When grouped by label, the name of the attribute is not visible anymore

General UX | Right click can now be used to open links in another tab

General | Issue with invite links being used multiple times fixed

General | Problems with stability after deployment fixed

Formula | Issue with formulas in duplicated boards fixed

Duplicate | Issues with duplicating large boards fixed

Duplicate | Issues with duplicated boards showing blank fixed

Duplicate/Move | Issues with duplicating boards and moving folders containing a reference fixed

Move Folder | Issue with duplicating attributes when moving folders fixed

Trello Import | Issues with duplicating a board/folder imported from Trello fixed
Hope you'll find our new feature and improvements useful, and we're really looking forward to seeing all the awesome templates you will come up with!