Hey guys!

Another day, another update! And hold on tight because this is a big one.
To be precise, it was the fourth most voted feature on our public roadmap. Have you guessed what it is yet?

We're introducing: Move Folders between Boards!
This long-anticipated functionality is now live, and with the impressive 167 votes on our roadmap, it was clear to us that it will change the way people use Infinity. It will allow you to reorganize your workspace easily at any point and it will open many other possibilities.
You can move a folder from one board to another to create a different setup

You can duplicate one folder and use it as a template in several different boards

Want to share just one folder with your client? You can now temporarily move it to another board for reporting purposes
And these are just some use cases that will be possible from now on. Plus, this will take a lot of the stress away during the initial setup because even if you change your mind later you can reorganize your data quickly and easily.
You will find this option if you click on the three dots symbol on the folder you wish to move - and among the options, you will now notice 'Move This Folder'. If you click it, you'll be able to move your folder to an existing board or create a new board.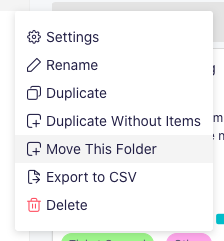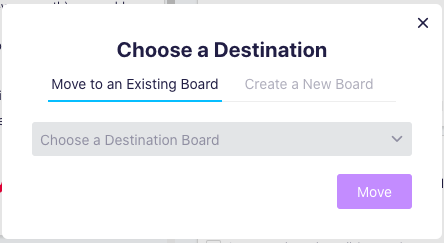 Note: Only users with necessary permissions will be able to move folders. (More details in our help center.)
Hope you'll find the new functionality useful!