If I close my computer and restart,
my browser is set to remember my tabs, not my cookies.
When I click on a tab for an infinity board, it shows a password window for that board.
It needs an option to sign in with the main infinity password as well and load that specific board in that specific tab. Once signed in the other tabs will work, it's just the 1st tab, I try that generates this problem.
Currently, if you put in your infinity password it rejects it as it is expecting a board password, I am not even sure if one was ever set.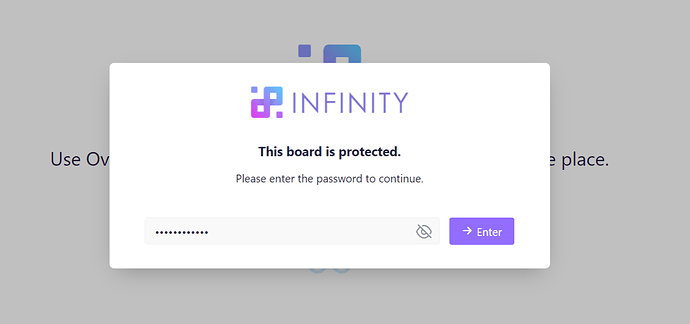 Then the workflow becomes tedious.
1 - navigate away from your board tab to the main start infinity web address.
2 - click on the login menu on the top nav.
3 - look at the overview of all your boards and click again on the board you want, wait for it to load.
Sorry guys this is way too many clicks when the original board form should have recognised the master password or had a separate option to log in to that board with a master password.