Hi,
URL fields aren't flexible at all. As far as I could test, it only supports HTTP and HTTPS URL types. Allowing more freedom in this field's validation would allow it to trigger actions instead of just opening webpages:
ftp:
smb:
zoomphonecall:
sip:
tel:
callto:
jabber:
ssh:
vnc:
anydesk:
The problem seems to be that in case Infinity detects an invalid URL, it tries to correct it by prefixing it with "http://". Using ftp as an example, if user inserts "ftp://example.com", Infinity assumes "http://ftp//example.com"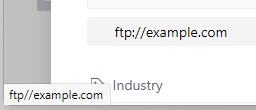 A very easy way to fix this would be NOT adding the prefix "http://" if the user input contains "://".
Another way would be allowing the administrator to define (by editing the field) if URLs should be validated or not.