I think that like other tools is useful to have the possibility to export data in csv or excel.
Hey @frc.broggi
Importing a .csv file (but also exporting) in Infinity will be available as a part of 'Integrations' feature, alongside Zapier. The ETA for that is April 2019.
How does that sound?

All the best, and thanks for opening this topic!
Hi,
thanks for reply, i think that april could be nice.
Regards.
Federico
Exporting to CSV would be great but what really would be awesome is an import function of CSV files (from Google Spreadsheets or Airtable) to be able to use the tables more.
Hey @f.sellingsloh
Yes, it's in the roadmap. We're expecting it in the following weeks

It's crucial when it comes to setting up the data in our tool

I also need the capability of exporting to csv or spreadsheets. voted on this one
Import and export capabilities are both on the current map. I think we're all very excited about that.

Since votes are limited, you could save your votes for other features that are not on the roadmap yet.
Any update on this? I have 30+ boards begging to come to Infinity from Airtable!

Hey @infinity.justs,
Thanks for asking!
I have to be honest here: So we've hired an external developer to start working on 'Import/Export' feature, but something came up in his personal life, and we had to pause for a while until we rearranged our forces.
We have made an agreement that one of the founding members (who's also a developer) start working on that feature from tomorrow.
So basically: we've defined the feature, it's been fully designed, and the production is starting tomorrow. We hope that it's going to take 3-4 weeks.
Here's a couple of images: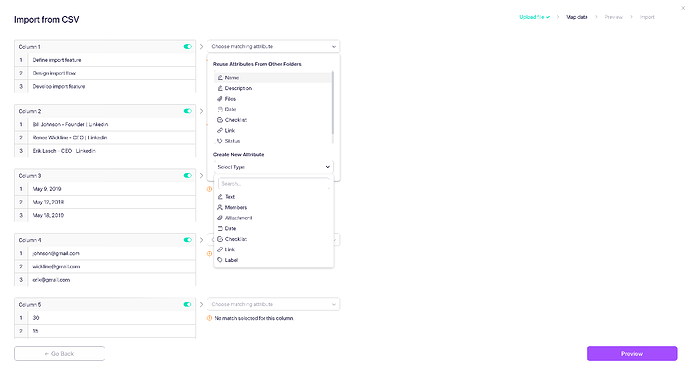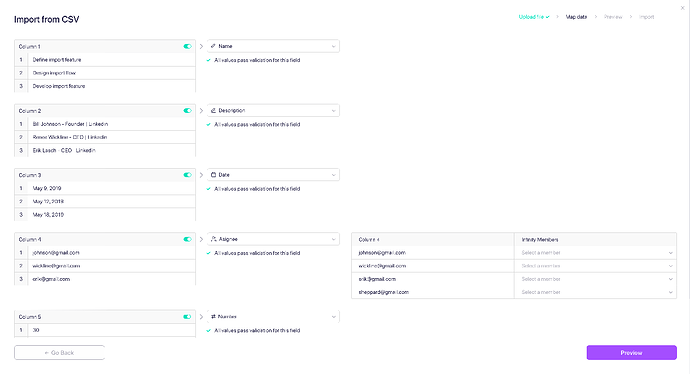 Awesome! Just glad to know it is still on the roadmap.

Awesome, can't wait for the CSV Export feature as I'm going to need it in 7 weeks for a project

Any update on this? I really need it within the next 2 weeks, otherwise I will have to manually type everything over into Excel or something. The thing is I need to be able to print my lists in a proper manner and don't know how to do it without the CSV export.
@marc.maessen, hey!
I'm positive we'll see it in the next 2 weeks. It's 80% done.

Awesome !!!
Then I'll continu to fill Infinity with all the data

I only need the CSV export for now because I don't have a proper way to print my lists. Or do you perhaps have another workaround for this to print a list / export if to PDF?
For now, there's no workaround

I guess it'll be possible after the .csv export

lol, well this might be fun for this area. Put a note at the top that the thing has been invented. There were only 14 things to read thru and I always find something interesting. But I was not sure it had been done until I looked at the date, deduced that this has been open a while and went the help section.
A note would have saved some time, but I am new

thanks for making the thing
FYI the last note on here. "For now, there's no workaround" I was sad for a min.
Thanks Cindi for the hint. I also was reading through the conversation and last post before you was that "there is no workaround". I finally found it.

Took me a couple of minutes though. LoL.
For those who are new to Infinity (Like Me), this is where you can find it. I believe it is available within a board or within a folder.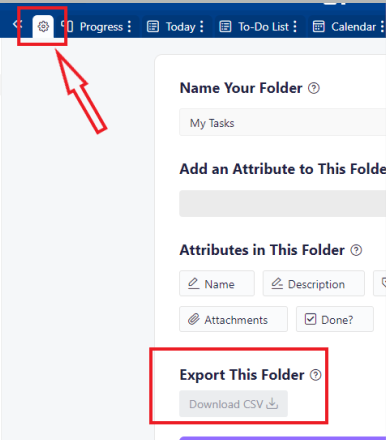 Thanks! Glad you've found it.

Cheers.
BTW. You can also click on the three dots in the left, "folder" sidebar. The option to export to a CSV file should be there, as well.
Hey I just started this today. Looks great so far. I found the export option, but currently I want to Import instead to get started. I am just trying to import a simple CSV file from my other CRM. Is this available? Or is it export only at this point? Thanks and by the way, I love to see how you are currently updating and working on the feedback given!