Hey guys!
Some of you may have already noticed that we have released an important UX improvement!
From now on, you will be able to set a primary attribute in your folders. If you prefer to use a text attribute other than 'Name' to name your items, this will come in very handy.
We've noticed there was some confusion and issues happening in the situations where multiple text fields were used in a folder and Name was removed.
Those issues will hopefully be a thing of the past now, since you will be able to have one primary attribute of your choice which will always act as the item's name - for example in notifications, references, calendar, etc.
To set a new primary attribute, just click to edit any text attribute you currently have on your items, and you will notice a new option on the list: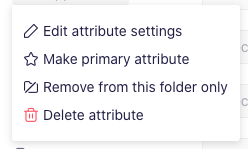 P.S. For those of you who don't know, our iOS app is up and running once again. You can download it right here: https://apps.apple.com/app/id1478129220